Welcome

To Anmol Knitters (P) Ltd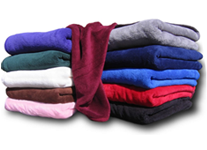 We introduce ourselves as one of the leading an ISO 9001: 2000 Certified Company of Fleece Blankets, Madeups, Quilts and Knitted Fabric. We are in this business since 1964.

We are located in Ludhiana – Punjab, 300 Kms away from New Delhi. Company is totally vertical & composite production set up with state of the art technology & machineries in Knitting, Dyeing, Finishing, Printing & sewing imported from Italy, Taiwan, South Korea, Japan and have a capacity of 30 ton per day of fabric in knitting , dyeing & Printing and around 10,000 Pcs of Blankets, Madeups & Quilts.

We are supplying these items to all major wholesale and retail chain stores in India and also through our own Dealers Network under brand name "Oriental's".


More About Anmol Knitters...
Products
Contact Us
Address :
Bahadur Ke Road, Near Dana
Mandi, Ludhiana – 141007
Punjab India.
Phone :
+91-161 2172060 /
3246026 /

Mob :
+91-098155-55574 /

Fax :
+91-161 2781144
E-mail :
info@anmolknitters.com

Website :
www.anmolknitters.com